SourceForge Global Traffic Distribution: France Up, Germany Down
SourceForge traffic distribution numbers are a good measure about how much attention and time people from different countries pay to find, download and possibly use open source software. US is still at the first place (15,84%),  followed by Brazil (9.16%), France (6.12%), Germany (5.8%) and eventually Italy (4.27%). The only real change in the top 5 is that France overtaken Germany, a sign that the French approach is paying off. BRIC countries collectively keeps holding over 18%.
Italy is steadily in the fifth position, below some details about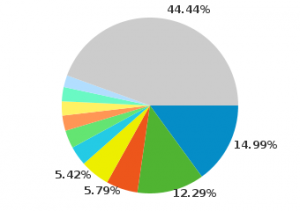 Rome (blue) is at the first place, followed by Milan, Turin, Naples, Florence (3.57%), Bologna (3.30%), Padova (2.8%), Palermo (2.6%), Catania (2.6%), Bari (2.18%).
Disclosure. I am a member of SourceForge advisory board.