Notes from the Open Source Analysts Summit 2010
Having had the chance to chair the Open Source Analysts session at the Open World Forum I want to share here some takeaways. Matthew Aslett, senior analyst at the 451 group, opened the session anticipating some results from the upcoming revision of the "Open Source is NOT a business model" report, due between the end of October and the beginning of November.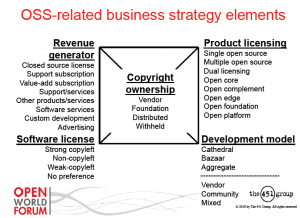 Matthew started by presenting an update of his approach to visualize different open source business models. Even if it doesn't cover all Alexander Osterwalder's 9 building blocks business model, it captures most relevant aspects of an open source business strategy.
The new survey will cover 300 OSS specialists  and 286 open source software users, and it will show how vendors keep preferring strong copyleft licenses, while users care much less (35% of respondents declared no preference).
Matthew shared also some findings related to what he calls "Open Source 4.0", the table shows the main differences b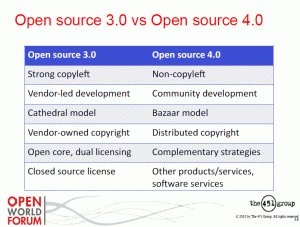 etween the third and the fourth stage of open source adoption by vendors.
Last but not least he made some predictions, ranging from a return to community as a means
of fulfilling commercial and community interests, a stronger focus on indirect monetization and on software-based services instead of services for software.
Jeffrey Hammond – Principal analyst at Forrester – after his speech in the opening session "2010 State of the Free / Open Source World" joined the panel to talk deeper about the shift in decision makers affects adoption patterns. Showing figures and numbers from recent Forrester research reports he said that open source is widely adopted (programming languages, operating systems, development IDEs, database and web servers are all used from around 50% of respondents).
What is more interesting is that management has caught up to developers now, with the only exception of development IDEs (see also the Eclipse survey 2010.)
Jeffrey talking about the reasons behind open source adoption beyond cost savings named also the speed (acquisition period, development cycle and velocity) and integration. He presented a very interesting case study about Sabre, a travel reservation service provider.
His predictions were around 'collateral' benefits deriving from open sorce adoption (attracting developers), how important will be the mixed-source combination and OSS as key enabler of leaner, faster, more flexible applications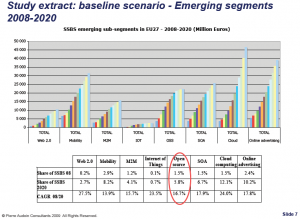 Mathieu Poujol, Director Technologies at Pierre Audouin Conseil, showed some extracts of the "Economic and social impact of Software and Software based Services" study conducted by PAC and financed by the EU.
Open source seems to play an important role also in the future, and as he said other segments (e.g. cloud computing or web 2.0) are also about open source.
Talking about OSS in Europe, Mathieu said that Europe is leading in OSS, but among the first three countries Italy don't line up.
He concluded his talk by saying that Open Source is a chance for European IT ecosystems, and that European problems of having strong software players remain unchanged in the OSS (unfortunately).
France is still leading the way, and the Open World Forum is the best European gathering of open source vendors, integrators, consultants, users, investors and researchers. French entrepreneurs got it right, and many of them are opening offices in US, moving from a local market to a global one.