About Advising Bitergia with My SourceForge Hat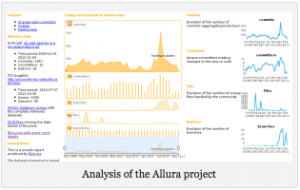 I'm lucky enough to be able to do the job I love.
As part of my job I dedicate almost 20% of my time to projects related to the SourceForge core business, and this includes advising few open-source-related companies. Among them a special place goes to Bitergia,  a company focused in the area of software development analytics.
Let me tell you first more about how I came across this company.
Before joining SourceForge I have run my own consultancy for about 2 years helping medium-to-large companies to find and select open source software. Among the many tools I have been using to such a job, a special place goes to Libresoft tools.
Jesus M. Gonzalez-Barahona about one year ago contacted me to ask me to advice Bitergia, in his own words:
We contacted Roberto to help us because we had been following him for years, and know about his competence in business models related to free/open source software, and also about his interest in software development analytics.
And I was really happy to be able to advice the spin-off of the Libresoft research group with my SourceForge hat.
About Bitergia. The company came to life when some of the researchers at LibreSoft realized how useful some of their research results are for companies and other parties interested in better understanding FOSS development projects and communities.
Bitergia is now using and producing FOSS tools to retrieve data from software development repositories (source code management systems such as Subversion or git, ticket tracking systems such as Bugzilla, Jira or those of Allura, Launchpad, GitHub or Google Code, mailing lists, etc.), analyze it according to the needs of its customers, and later visualize the results.
Bitergia offers automated analysis of many aspects of FOSS projects (including the maintenance of analytics dashboards for designated projects), support for external use of their tools for FOSS analytics (including custom development and maintenance), and detailed consulting on how a company can benefit from the use of analytics to better understand FOSS projects, to continuously track the development parameters more interesting to them, or to identify the kind of analysis and studies that can help them to answer the questions they may have about FOSS projects.
Bitergia is also involved in the integration of software analytics tools and dashboards with other systems, such as software development forges or business analytics tools, and offers services and consulting in those domains.
Some examples and previews of the analysis the company is producing can be found at their blog. Among them you might find interesting to look at the analysis on OpenStack or  Liferay, and get the gist of what are they doing.
What you can't miss is their very recent analysis of our own Allura platform, now incubated at the Apache Software Foundation. It's all good to see the SourceForge and the Bitergia teams to jointly work under the Apache umbrella, and I'm glad that Alvaro del Castillo – one of the Bitergia developers – has been recently invited to become a committer and a PMC member.
Congrats to the Bitergia team for the great work!