Cloud Computing Conference: Rome, 13 October 2010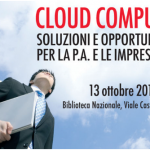 CDTI – the Association of IT Professionals based in Rome – and the Italian biweekly newspaper "Corriere delle Comunicazioni" are organizing a one day event around cloud computing on Wednsday 13 October, at the National Central Library.The morning session will be dedicated to open source cloud for public administrations, while the afternoon speeches will be targeting solutions tailored for the use of cloud computing in enterprises. Eucalyptus co-founder Graziano Obertelli will join the event.
The event is open, register on line.