2010 Open Source Awards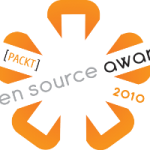 Packt is about to launch the 2010 Open Source award – now at its fifth edition, formerly known as Open Source CMS Awards – an award organized to encourage, support, recognize, and reward Open Source projects selected by a panel of judges and Packt website visitors. This year they have a prize fund of $247,000 spread across six categories.
From August 9, you are invited to submit a nomination for an Open Source Project to be put forward to the final voting stage in each category. The following categories make up the 2010 Open Source Awards.

Open Source CMS

Hall of Fame CMS

Most Promising Open Source Project

Open Source E-Commerce Applications

Open Source JavaScript Libraries
Also, this year I have been invited again to join the judge panel, and I look forward to share my thoughts and comparative analysis of open source programs with other judges and learn about their views about Open Source e-commerce applications.
Follow Packt blog for further information about the 2010 Open Source Awards.