NGINX Go Commercial, a Promising Open Source Business Case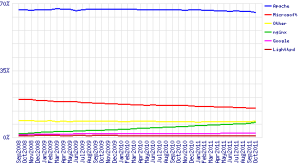 NGINX – the company born earlier this year to turn the NGINX project success into a commercial open source product – just announced  the closure of a $3 Million  series A funding round. Given the impressive results of NGINX, that according to Netcraft may soon overtake Microsoft, it comes with no surprise that 3 different VCs have decided to invest on it.
Andrew Alexeev, who recently joined the author of NGINX Igor Sysoev to take care of business development and marketing, told me more about company's business strategy and the road ahead.
We started talking about the NGINX community, and the role it plays in the big picture.
We greatly appreciate what the open source community of users have been doing for us. We've got a 0.5%/month market growth without any marketing just by word of mouth. We've been getting useful reports and suggestions from the people, and we've been paying back with quick response, agile development and new features. We will continue to do that and upselling on the open source users isn't our strategy.
So until now the NGINX community has been an effective and efficient tool to spread the word about NGINX, and also of help to define the project's roadmap. NGINX (the company) may well be able to differentiate the project and the resulting product, because the former and the latter are targeting pretty different audiences (as seen and discussed in the Funambol productization case).
The visible commercial arm of NGINX is oriented towards Support services, but this is something is going to change soon, and an open core approach is the natural way to go. What will the NGINX offer look like in the next future?
Essentially we'll be offering tools to monitor and manage performance, security and configuration (like integrating with OSS/BSS for instance), advanced load balancing capabilities, high availability/clustering. For  hosting we'll be integrating with hosting management software (like *panels), and also tools to monitor and manage hosting environments better.
Their open core licensing sounds familiar, in fact as Funambol they are in the position to not upsell their own community. A number of things, ranging from their partner channel approach to how to involve developers, are still to be defined, but NGINX is going to be an open source business success (something 3 different VCs – namely BV Capital, Runa Capital and a private investment firm for Dell Inc. Chairman and CEO Michael S. Dell – show to have well understood).
I will check with Andrew later how things are going, and I wish them all of the best.