Jolt Awards 2011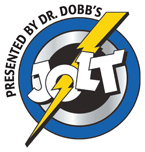 The Jolt awards, managed by the new Executive Editor Andrew Bistock, has been revisited and there are 6 categories, the first is the Books category and right now we are in the process to select finalist, see the Jolt Schedule to know more.
I will join for the fourth time the Jolt Awards jury, but this year I'm too busy with my job and I had to limit my participation only to the "Books" category.
Read the guideline to submit nominations, for questions concerning Jolt Awards can be emailed to joltawards@drdobbs.com.