EXPO COMM Italia 2011 – the Italian edition of the International exhibition event dedicated to the latest in Information & Communication Technology – will take place in Rome from March 30-31, 2011.

I have been invited to join the Virtualization & Cloud panel along with many IT professionals, included Giuseppe Maria Armenia (ICE), Alessandro Musumeci (ferrovie dello stato), Pierfrancesco Gaggi (ABI Lab).

See you there!
I have been rarely playing the prediction game in the past, but now that Red Hat finally seems to fulfill my old predictions – also in the cloud – it is time to join Bob Sutor and others to play again.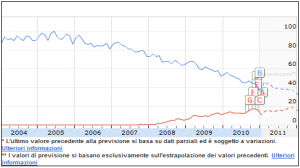 Open Source and the Cloud.
Open source is now the maturity phase, and it is interesting to look at how compares open source and cloud computing (courtesy of Google Insight for search).
But the open source world is not so small, looking at the same graph for different European countries makes a difference. While France looks at the cloud as much as North-Americans do, other countries (like Italy) are lagging behind (see also EC2 statistics).
oiaohm

Legautonomie – the Italian league for local autonomies (municipalities, provinces and mountain communities) – is organizing a seminar about the impact of the national digital reform on local governments.
The event will be held in Pisa, on the 25th of October, I'll give the closing speech talking about cloud computing and open source.